Buy VOSS Water Online

About Voss Water: VOSS Water was designed to offer every consumer the remarkable and refreshing bottle of natural water that they deserve. Voss Water was created from the crystal clear Artesian springs of Norway by two native Norwegians, Ole Christian Sandberg and Christopher Harlem.
Norway is known for its pristine countrysides, and in Iveland, where VOSS originates, you'll find exceptionally clear clean artesian spring sources. Instinctively, these two childhood friends knew that discerning consumers would appreciate the crisp and delightful taste of Norwegian Artesian Spring Water. This exceptional, high-quality bottled water is now available in over 50 countries.
Today, VOSS offers artesian spring water in several delightful forms: the still, the sparkling and the lightly-flavored sparkling, which is available in Lemon Cucumber and Tangerine Lemongrass. All of these Artesian waters have no calories, no sugar, and no artificial flavors; they are pure and naturally refreshing.
The purity of bottled water is determined by its minerals and by the level of the TDS or Total Dissolved Solids. VOSS consistently offers extremely low levels of TDS, so you get a crisp, clean and refreshing taste in every bottle.
The challenge Sandberg and Harlem had was then to coordinate the purity of this Norwegian water with a unique bottle design that would express the high quality and standards of VOSS. After careful contemplation, the simple, yet bold glass design that resulted is known around the globe for high-caliber and premium bottled water.
VOSS Water Bottles and Types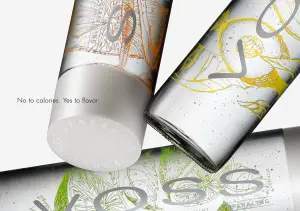 Still VOSS Water
When we discuss the purity factor of bottled water in the industry, we're often talking about the specific level of minerals that are found in the water. In industry jargon, we refer to this as Total Dissolved Solids or simply TDS for short.
The overall TDS levels of the water produced here at VOSS is relatively low in comparison to many of our competitors. This means you get a very clean and fresh-tasting water in every bottle and sip, which is exactly what we want for you.
VOSS stilled water is available in amounts of three hundred and seventy-five and eight hundred milliliters for glass bottles, and three hundred thirty and five hundred milliliter top-quality plastic PET bottle amounts.
Sparkling VOSS Water
We've designed this water for an extra crisp and robust taste, one that goes well with sharp and tangy flavors such as tartar sauce or spicy takeout. Like all of our hydration products, it features extremely low TDS levels. We've taken great care to infuse our sparkling water with bubbles that are much finer than many of the other premium bottled waters out there. The end result is some of the most natural and pure sparkling water on the market today, and it's extra bubbly to boot.
VOSS Sparkling water is available in glass bottles of three hundred seventy-five milliliters and eight hundred milliliters.
Pet VOSS Water
This is our version of the ideal premium water product for those consumers with busy lifestyles who are constantly on-the-go. We've drastically reduced the weight for added convenience while managing to retain the fresh taste, clarity, and elegance our fans have come to expect from us. This is the perfect choice when you want effective hydration and need to grab something quickly. It's available in high-quality plastic PET bottles in sizes of three hundred thirty, five hundred and eight hundred and fifty milliliters.
Tangerine Lemongrass VOSS Water
Having been in the water business for some time, VOSS knows that the average consumer wants to drink more water but they want a variety of flavors too. We get that, so we've crafted some special sparkling water we like to call Tangerine Lemongrass. It gives you a nice, unique flavor while being devoid of both calories and sugar. This water is available in the UK, Canada, Australia and the U.S. in three hundred seventy-five milliliters.
Lemon Cucumber VOSS Water
If you want to drink healthier premium water products and still feel like every day is a spa day, VOSS has just the product for you. Lemon Cucumber provides refreshing flavors with a bit of extra zip, without adding to your sugar or caloric intake. This water works great as a mixer too. We offer Lemon Cucumber in three hundred seventy-five milliliter amounts in the U.S., Canada, the UK, and Australia.
Lime Mint VOSS Water
Lime Mint is the newest addition to the VOSS lineup and we couldn't be more excited. This water has calories and no sugar or additives, just deliciously pure flavored water.
After some research and testing, we knew we had a winner on our hands that would delight consumers looking for the next big thing in premium hydration.
VOSS water currently offers this product only in the U.S. in three hundred seventy-five milliliter amounts.